---
SunExposure Extension
Introduction
SunExposure extension calculates the number of hours over a time period when direct sunlight hits SketchUp model surfaces.
SunExposure extension is oriented towards early project design phases. Level of details of future building can be rather low, and only basic information about building environment, position and geometry are needed.
This extension also provides:
CSV reports for the percentage of illuminated area, hour by hour and daily range during which this percentage exceeds a threshold,
shadow calculations,
calculation for single time moment.

Information about exposure to the direct sun can influence important decisions related to building lighting and thermal strategies:
Selection of facade materials - in accordance with their light sensibility,
Suggest position of windows on the facades,
Suggest which parts of the building need special sun protection, to avoid glare or overheating,
Evaluate the efficiency of proposed sun protections and compare the effect of various sun shading alternatives proposed for the building,
Suggest areas on the facade that should be insulated to prevent overheating or over-cooling of the building. Visualize potential risks of overheat,
Suggest areas of the building which can be used for passive solar heating -"greenhouse effect",
Suggest best places for photovoltaic cells.
Sun exposure of a point on the facade depends on site climate and environment (relief, obstruction buildings), selected time period and on building shape, facades orientation and sun protections. It is independent on materials used and on building interior.
---
How to use SunExposure Extension
Open SketchUp model. Follow recommendations to prepare your model for DL-Light calculations.

Open SunExposure dialog from toolbar or menu Extensions -> De Luminae -> SunExposure -> Activate extension and enter calculation parameters.

Fields description:

Project name - Project name is used during export and for output filenames generation. The SketchUp model name is used by default.

Results - Directory where model is exported for calculation. It should be an existing or a new directory where user has appropriate write/read privileges. When calculation is started model geometry and resulting files will be saved in sunexposure_output subdirectory.
For SketchUp projects stored on network disk (Windows), see Work on a copy of the model.

Analysis - Results represented by false color textures can have different meaning depending on selected value:

Average [hours per day] - average daily number of hours, calculated as total number of hours during the selected period when sensors are exposed to the direct sunlight divided by number of hours in the period,
Total [hours] - total number of hours during the selected period when sensors are exposed to the direct sunlight,
Percent [%] - percentage of sunlight hours for the period. Results represent total number of hours during selected period when sensors were exposed to the direct sunlight divided by number of hours when sky was clear with sun in that period,
Shadows [%] - total number of hours during which the sunlight did not reach the surface divided by the number of clear sky hours of the period. This calculation is independent of climate data (clear sky always used). Read more details below.
Single moment [hour] - sun exposure of selected surfaces for selected single moment, represented as shadows. Read more details below.

Details - Model surfaces may require different density of sensors. Level of details definition is directly connected to number of sensors or their density on surfaces. Big unobstructed surfaces may need lower level of details with few sensors only, while smaller surfaces or surfaces with complex obstructions may require very high level of details. Level of details determines number of sensors for calculation, and has a major influence on calculation time and results accuracy.

DL-Light allows to choose:

the sensor grid applicable by default to all calculated surfaces,
different sensor grids for some surfaces ("exceptions" button).

See sensors selection for more information on the choices of proposed sensors.

Location - Building location coordinates. This info is used in combination with weather data to generate correct sky distribution. Location can be based on SketchUp model location, current Weather file location or be Custom. Below is dialog for Custom location definition.

Weather

- Selection of weather data or clear sky. See page Weather data.

Weather file

- Select annual weather file for the building location in Energy Plus weather file format. The weather file can be selected in the list provided by DL-Light or downloaded from Internet.

Sunny sky

- clear sunny sky distribution. Analysis of maximal potential for sun exposure for model location.

The chosen weather file defines the time zone used for dates and times of calculations. For clear sky mode, the time zone can be defined below.

Time zone - Display of the time zone used for the calculations.

The time zone is defined by the selected climate data file. For clear sky mode, a list allows you to choose the time zone. In clear sky mode, if the "SketchUp location" is chosen, the time zone set in SketchUp is used. However, if a weather file is already chosen and its time zone is different, a warning is displayed.
Note: when a model is located in SketchUp, SketchUp proposes a time zone based on the longitude of the place. This value is sometimes wrong, especially for European or Asian countries, hence we recommend to always use a weather file.

Period - The analysis period, defined by a season, the entire year, or two specific starting and ending dates:

In trial version of the extension only 'summer' and 'winter' periods are supported. For more details read License information.

Time step - In clear sky mode only, time step in minutes for the simulation.

(If a weather file is used, the time step is set to 60 minutes.)

Palette of false colours can be defined with precision. 3 options for palette are given, Automatic, Gradient and Custom:

The automatic palette

is generated during calculation and is based on calculated results for selected surfaces. This is the best option for first calculations, when user doesn't have idea about possible resulting values

Gradient palette

enables global palette manipulations - definition of minimal and maximal palette values, number of colors and start and end color. It is very useful once user have idea of resulting values, but want to experiment with colors.

Custom palette

gives full freedom to add/delete/modify each color separately. Good for creation of final results for representation, when some surface areas should be highlighted for example.

After entering the parameters, select surfaces and press Render or button.

Calculation time depends on the number of selected surfaces, the level of sensors details and model complexity.

When results are imported, selected surface will have appropriate false colors and Palette and Report dalogs will be opened.

Results analysis.

The Report dialog displays the distribution of results over current palette and calculation input parameters.

Show/Hide Sensors and Values explores results directly in the model for each sensor.

Nota : the option "View / Guides" of SketchUp must be activated.

For further calculations on the same model:

To run calculation on any surface simply select it and Render .
It is possible to modify the parameters of the calculation: to change the density of sensors to improve the visualization of the results (for all the model or specific surfaces), to modify the palette of colors, to change the period... Whatever the changes, use the Render button. Previously calculated surfaces will be updated with the new settings.

DL-Light uses a calculation cache algorithm. It automatically detects if a surface requires recalculation or if a previous result can be reused. By default, the cache keeps the information of the last 10 calculations (value configurable in the preferences).

For example if a calculation has just been made for the "summer" season, then the season is changed to "winter" for a recalculation, and finally recalculated for "summer":

the system will redo the calculation of all the surfaces for the "winter" season, avoiding some steps: calculating the location of the sensors, preparing the weather file.
When the "summer" season is requested again, all the data can be restored from the cache, the "calculation" does not take more than a few seconds.

Archiving results:

DL-Light allows to archive all the results of a calculation: reports, textures and calculation steps (exported Radiance model, weather file, ...). This archive can be reloaded on the model, subject to using exactly the same model as during the calculation.

See the page Archiving results for more informations about this feature.

To archive the calculation results, click on the button Archive.
To load the results of a previous calculation, click on the button Load

See the page Comparison of results for more informations about comparison of archives.

Snapshots:

Current SketchUp model view with imported results can be exported with palette or without palette to png format. Open the folder of images with .
This option is not supported in trial version of the extension (see license information).
---
Additional reports: exposure per day and hours
This feature is not supported in trial version (see license information).
When calculating Sun Exposure, it is possible to generate for each surface two additional reports in CSV format:
Percentage of illuminated surface, hour by hour. The columns are month, day, hour, percentage of illuminated sensors, percentage of illuminated area (sensor coverage corresponding to the Voronoi surface).
Daily ranges during which this percentage exceeds a threshold (50% by default). If the option "Coverage area of sensors" is set, the area corresponding to each sensor is the area of the nearest points of the plane, otherwise the percentage of illuminated sensors is used. The columns are month, day, range start hour, range end hour. Only the rows verifying the threshold criterion are listed.

To generate these reports, validate the option "Additional reports: exposure per day and hours" in the preferences of the extension. The reports are saved in the sunexposure_output/current/reports subdirectory
---
Shadow calculation
This feature is not supported in trial version (see license information).
Shadow calculation is the opposite of the sun exposure calculation: the indicator shows the duration during which the direct sunlight did not reach the surface.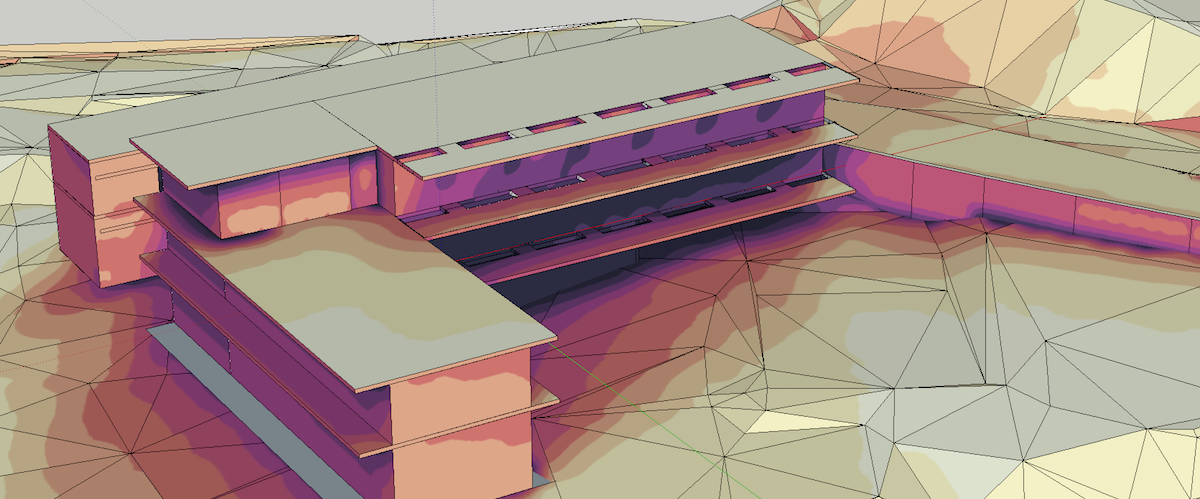 ---
Calculation for single time moment
This feature is not supported in trial version (see license information).
Calculation for a specific time moment measures areas in the sun and in the shade at a specific time for a clear sky. For this feature a Radiance simulation is performed for the entire surface. This function does not use point sensors on the surface, the value chosen for the level of detail of the sensors is not taken into account.
False color palette is automatically adapted and contains only 2 values: "no light" (blue) and "light" (yellow).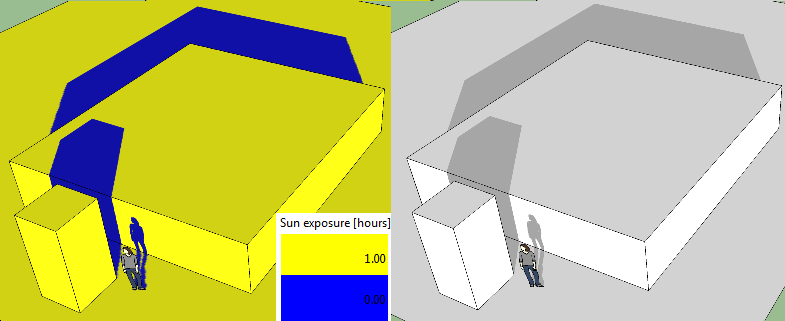 On the image above sun exposure results (left) are compared to shadow results from SketchUp (right), for the same location and time moment.
Shadow patterns from SketchUp and SunExposure match when hour format is set to 'standard'. When hours format is set to 'solar' sun position is calculated as for solar hour, and shadows positions don't match. Read more on page Standard versus solar time calculation.
Limitation: The calculation for a specific time moment does not benefit from the cache system.
---